Click on pic for tickets!!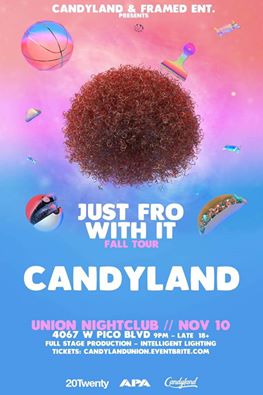 JUST FRO WITH IT TOUR"

(18+)
$15-25 click on price for tix!
FUSION "JUST FRO WITH IT TOUR" FT @CANDYLANDDJS. MULTIPLE CUSTOM FUNKTION ONE SOUND SYSTEMS AT UNION IN LOS ANGELES!
THURSDAY NOVEMBER 10TH, 2016 | 18+ RAVE EVENT | 9PM – 3AM | FT 16 DJ'S ON 2 STAGES | MIND BLOWING PRODUCTION | INTELLIGENT LIGHTING | MIND BLOWING LASERS & VISUALS | SMOKING PATIO & SPECIAL SURPRISE GUESTS!
SANTA BARBARA NATIVE CANDYLAND BEGAN PRODUCING HER OWN ORIGINAL SONGS BACK IN APRIL OF 2012. AFTER BECOMING THE FIRST ACT TO WIN BACK-TO-BACK BEATPORT REMIX CONTESTS (SKRILLEX "MAKE IT BUN DEM" & BINGO PLAYERS "RATTLE") AND RACKING UP OVER 1.3 MILLION SOUNDCLOUD PLAYS, SHE RELEASED HER DEBUT ALBUM "BRING THE RAIN" ON SPINNIN RECORDS (JAN 21ST 2013) WHICH CHARTED: #3 ON THE BEATPORT OVERALL TOP 100, #1 ON DUBSTEP TOP 100, #1 ON ELECTRO HOUSE TOP 100, #1 ON DRUM N BASS TOP 100, AS WELL AS #1 ON THE GLITCH HOP TOP 100. CANDYLAND CONTINUES TO PAVE HER OWN LANE BRIDGING THE GAP BETWEEN TRAP, DUBSTEP, AND HOUSE MUSIC WITH EVERY ORIGINAL/REMIX SHE RELEASES, INCLUDING HER NEWEST SINGLE "SPEECHLESS"ON SUICIDE SHEEP RECORDS (OCT 30TH 2015) WHICH HAS ACCUMULATED OVER 1 MILLION PLAYS ON SPOTIFY WITHIN THE FIRST TWO WEEKS OF RELEASE……

Click here for tix!